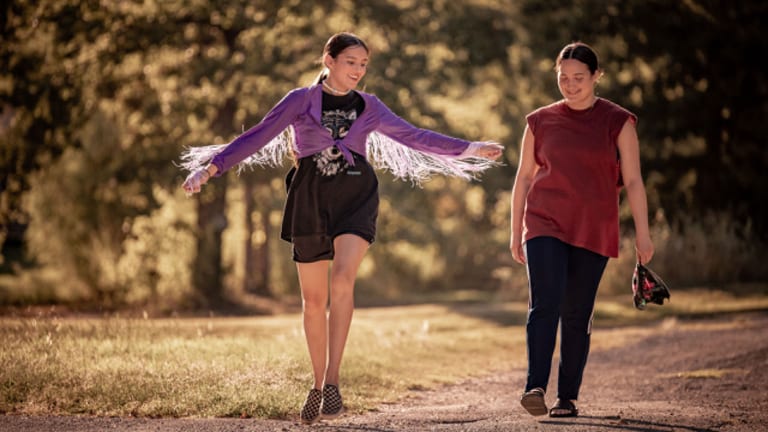 INDIGENOUS FILM+ ONLINE+
Listing prepared by Indigenous Media Initiatives,  January 20-February 5, 2023
FESTIVALS
Online
.
Last week. Jan 24-29. Tickets. This week both online and in-person. Tickets. See website for more information about programs with Indigenous short films.
In the 2023 Sundance Film Festival six Indigenous-directed feature films have their premieres, appearing across 6 different programs. 64 short films were selected from 10,981 submitted.
Feature Films
Gush US Fox Maxy (Kumeyaay and Payómkawichum) An embodied rumination of both male and female power, healing and haunting, all within an apocalyptic world. A transformation that courses through unknown terror to untamed collective joy. New Frontier
Fancy Dance US Erica Tremblay (Seneca-Cayuga). Writers: Miciana Alise (Tlingit) and Erica Tremblay. Following her sister's disappearance, a Native American hustler kidnaps her niece from the child's white grandparents and sets out for the state powwow in hopes of keeping what is left of their family intact. US Dramatic Competition 
Twice Colonized Greenland, Canada. Producers: Emile Hertling Péronard (Greenlandic Inuit), Alethea Arnaquq-Baril (Inuit), Stacey Aglok Macdonald (Inuit). Renowned Inuit lawyer Aaju Peter has long fought for the rights of her people. When her son suddenly dies, Aaju embarks on a journey to reclaim her language and culture after a lifetime of whitewashing and forced assimilation. But can she both change the world and mend her own wounds? World Documentary Competition. 
Bad Press US. Co-Director: Rebecca Landsberry-Baker (Muscogee Creek) When the Muscogee Nation suddenly begins censoring its free press, a rogue reporter fights to expose her government's corruption in a historic battle that will have ramifications for all of Indian country. US Documentary Competition. 
Murder in Big Horn US. Co-Director: Razelle Benally (Oglala Lakota, Diné) The deaths of a group of Native American women in rural Montana are the focus as Native families, journalists, and local law enforcement reveal a violent crisis set in motion almost 200 years ago. Premieres. 
Dramatic Feature with Indigenous subject
Sorcery Chile. Christopher Murray. Based on actual events, this dark decolonial fantasy is a coming-of-age tale of a young girl who learns sorcery to exact vengeance, rooted in the historical conflict between German settlers and the Huilliche people of Chile. World Dramatic Competition.
Short Films In curated shorts programs with diverse selections
Headdress US. Taietsarón:sere 'Tai' Leclaire. When a queer Native is confronted by a non-Native wearing a ceremonial headdress at a music festival, he retreats into his mind to find the perfect response from various versions of his own identity. World Premiere. 
I Am Home US. Director, screenwriter: Kymon Greyhorse, Producers: JoJo Threehairs, Ernest Hill) As time goes on and the world around us shifts, we adapt and change. Although we might look different, deep down we are still the same. We are made from Mother Earth – mud, wood, love, and patience. 
Sunflower Siege Engine / U.S.A. (Director, Screenwriter, and Producer: Sky Hopinka) — Movements of resistance are collapsed and woven together, from reflections of one's own body in the world today, to documentation of Alcatraz, the reclamation of Cahokia, and the repatriation of the ancestors. World Premiere. 
Hawaiki Aotearoa/New Zealand. Director, screenwriter: Nova Paul, Producer: Tara Riddell At the edge of the playground close to the forest, the children of Okiwi School made a refuge they call Hawaiki. Hawaiki has spiritual and metaphysical connections for Māori as the children create a space for their self-determination. World Premiere. 
By Water Animation. US. Iyabo Kwayana, Producers: Chris Hastings, Maori Karmel Holmes, Nevo Shinaar. An unlikely hero's journey into his own memories becomes a vehicle for reconciliation and healing for himself and his sibling. 
Shirampari: Legacies of the River Documentary.Peru. Director, Screenwriter: Lucía Flórez, Producer: José Miguel Pérez. In one of the most remote places in the Peruvian Amazon, an Asháninka boy must overcome his fears and catch a giant catfish using only a hook to begin his adult journey. 
Jan 29 - Feb 6.  Tickets $6, or more as you wish. Online. To access the programs create an account, The festival features six programs of 2-8 films each. Descriptions of the films are available on the ticket purchase page for each program.
Feature and mid-length films streaming include
End of the Line - The Women of Standing Rock Documentary feature. US/Finland. Dir: Shannon Kring. Prod: Pearl Means (Navajo), Sophia Ehmrooth. In English with Finnish subtitles.
Эдэрсаас – Youth Narrative feature. Sakha. Dir/prod/writer. Dmitril Davydov (Yakut). In Yakut with English subtitles.
A Boy Called Piano - The Story of Fa'amoana John Luafutu Feature documentary. Aotearoa/New Zealand. Dir: Nina Nawalowalo (Fijian). Writer: Fa'amoana John Luafutu (Samoan), Tom McCrory. In English
Out of the Dark into the Light Mid-length documentary. Sápmi/Finnish. Dir: Ritva Torikka. Produced by the Mary Hoch Center for Reconciliation, George Mason University. In Northern Sámi, English.
MEDIA ARTS, FILM, PHOTOGRAPHY
In-Person
Feb 1 - May 13. Free. In-person
"more-than-human" presents media artworks at the intersection of art, science, Indigenous worldviews, and technology that speculatively and poetically use multimodal storytelling as a vehicle for interpreting, mattering, and embodying more-than-human ecologies. The works "aim to critically and emotionally engage with the important work of decentering the human and rethinking the perspective that sees nature as a lifeless resource for exploitation. to reconsider, reorient, and rethink relationships with the more-than-human." This is the core exhibition of the CONTACT Photography Festival in Toronto, and has been curated by artist and curator Jane Tingley. Tingley is Director of the SLOlab: Sympoietic Living Ontologies Lab and an Associate Professor at York University.
Artists featured include:
Dolleen Tisawii'ashii Manning (Kettle and Stoney Point First Nation) and Mary Bunch. VR production: "Emerging from the Water" Manning is an interdisciplinary artist and Queen's National Scholar in Anishinaabe Language, Knowledge, and Culture (ALKC) in the Department of Philosophy and Cultural Studies at Queen's University, with expertise in Anishinaabe ontology, mnidoo interrelationality, phenomenology, and art. Bunch is a media artist, Canada Research Chair, and Associate Professor, Cinema and Media Arts at York University.
Suzanne Morrissette (citizen, Manitoba Metis Federation) As an artistic researcher, Morrissette's interests include: family and community knowledge, methods of translation, the telling of in-between histories, and practices of making that support and sustain life, often worked as interactive installations. She is Assistant Professor and Graduate Program Director for the Criticism and Curatorial Practices and Contemporary Art, Design, and New Media Histories Masters programs at OCAD University.
Feb 3 - Apr 16. Tickets. In-person 
The Yanomami Struggle is about art and activism in the Amazon. It is a comprehensive exhibition dedicated to the collaboration and friendship between artist and activist Claudia Andujar and the Yanomami people, one of the largest Indigenous groups living in Amazonia today. Since the 2000s, a new generation of Yanomami artists have begun producing and showcasing their work outside of the territory, establishing a new perspective that is now incorporated into the exhibition. It includes more than 80 drawings and paintings by Yanomami artists André Taniki, Ehuana Yaira,Joseca Mokahesi, Orlando Nakɨ uxima, Poraco Hɨko, Sheroanawe Hakihiiwe, and Vital Warasi. It includes new video works by contemporary Yanomami filmmakers Aida Harika, Edmar Tokorino, Morzaniel Ɨramari, and Roseane Yariana.
These works appear alongside more than 200 photographs by Andujar that continue to raise visibility for the Yanomami struggle to protect their land, people, and culture. Through the voice and guidance of shaman and leader Davi Kopenawa, the exhibition also narrates the Yanomami's mythological origins and maps their cosmovision, politics, and social organization. Kopenawa's friendship with Andujar since the 1980s, when Andujar and other activists created the Commission for the Demarcationof the Yanomami Park, is central to her ongoing relationship with the people. The Yanomami Struggle is curated by Thyago Nogueira, Head of Contemporary Photography, Instituto Moreira Salles, São Paulo, Brazil.
Every Sun through Feb 5. Screenings take place in the theater every 15 min, 12 - 4:45 pm. Free with museum admission. In-person
Karaiw a'e wà (The Civilized) Experimental video. Brazil. Dir: Zahy Guajajara (Tentehar-Guajajara). Commissioned by MAM-Rio de Janeiro for the exhibition "Nakoada: Strategies for Modern Art." Guajajara is a multidisciplinary artist, filmmaker, actor and activist and in this film interweaves dialog in her first language, Ze'eng Ete, a dialect of the Tup-Guarani trunk, and Portuguese to examine Indigenous identitites and experiences amid ongoing struggles for land rights and against ecological exploitation, and considering Indigenous Futurisms resistance to historical erasure.
NATIVE CREATIVITY
In-Person
Theater, Visual Arts, Music, Indigenous Games
Theater for the New City
New York City
"Soledad"
Jan 12 - 22. Tickets. In-person
Soledad Written by Carolyn Dunn. Dir: John Scott-Richardson. A socially awkward high school senior, Soledad "Sunny" Sixkiller (Jolie Cloutier (Onondaga)), discovers that her father (Brett Hecksher (Cherokee)) was a prize-winning pow wow singer whose grief over the disappearance of his wife (and Soledad's mother) has turned him inward. Sunny finds, by accident, her father's old pow wow tapes and vows to learn his songs in order to bring him back to life. Carolyn Dunn is an Indigenous poet, playwright, musician, director, and actor whose identity includes Cherokee, Muskogee Creek, Seminole, Choctaw Freedman, Tunica-Choctaw-Biloxi and French Creole descent. She is currently Assistant Professor in the Department of Theatre and Dance at California State University, Los Angeles, and is Artistic Director of Oklahoma Indigenous Theatre Company in Oklahoma City. This play is presented by American Indian Artists Inc (AMERINDA), New York City.
Jan 20 - May 22. Free with museum admission  
Three artists from Taos Pueblo whose works are connected by clay, mud, the earth as material or as imagery are Angie Yazzie, micaceous potter, Brian Taaffe, painter and Deborah Lujan, photographer.
Washington, DC     Jan 24 - Feb 1. Free
Cultural Performance and Conversation
Jan 24 - 25, Jan 31 - Feb 1. 1-1:30 pm. In the Atrium
Tribal songs from Alaska to Florida with Dennis Zotigh (Kiowa, Isanti Dakota, Ohkay Owingeh Pueblo). Visitors are encouraged to ask questions about the museum and Indigenous culture in the past and present.
Winter Blast: A Weekend of Indigenous Games
Jan 28 - 29, 10 am-4:30 pm 
Jeremy Red Eagle (Sisseton-Wahpeton) from the International Traditional Games Society, Julia Garcia (Aymara) and members of the Native Hawaiian school Hālau O'Aulani share Indigenous games from across the Western Hemisphere.
New York City
Jan 28, 11 am-4 pm. Free. In the Diker Pavilion
Winter Blast: A Day of Indigenous Games
Play games from across the Western Hemisphere- including Inuit yo-yo, ring and pin, Hawaiian chess, hoop throwing, and more.
TALKING ABOUT - READING ABOUT
Indigenous Futures, Protecting Indigenous Art, Discussions with a Curator, a Composer and several Photographers
IFRC Symposium  Jan 27 - 28. In-person
The Indigenous Futures Research Centre (IFRC) supports research that is led by and/or for Indigenous peoples and communities.  It welcomes all researchers, Indigenous and non-Indigenous, who engage in research that prioritizes the co-generation of knowledge that is of direct use to the Indigenous peoples and their communities.  
"The symposium will focus on sharing members' work with engaging Indigenous communities and knowledges with presentations and dialogs by faculty and students, previewing ongoing projects. What research questions are taking root now, set to expand?  What might the future have in store?  How will we get there together?"
IFRC Publication
Promoting and Protecting the Arts and Cultural Expressions of Indigenous Peoples: A Compendium of Experiences and Actions, edited by Tony Belcourt, Heather Igloliorte, and Dylan Robinson. Experiences and insights from over 30 contributors articulate both the real-life encounters and challenges with misappropriation of arts, cultural expressions, and artistic practices, as well as some of the tools and solutions being advanced to address these challenges. A website for this project, featuring additional perspectives, is currently under development and expected to launch in 2023. In the meantime, IFRC invites downloading the original digital publication for free here.
PBS NewsHour
Episodes now online
"1st Native American composer to win Pulitzer Prize, on his experimental process"
Broadcast on the PBS NewsHour on Jan 12, 2023
Streaming. An interview with composer Raven Chacon about his work and process
"New project spotlights work of modern Indigenous American artists"
Broadcast on PBS NewsHour on Jan 6, 2023
Streaming. An interview with Candice Hopkins, executive director of the Forge Project, a contemporary Native-led arts organization in New York's Hudson Valley
Feb 4, 1-5 pm ET. In-person, and live-streamed at AmericanIndian.si.edu/livestream
Photojournalists Donovan Quintero (Navajo), Tailyr Irvine (Confederated Salish and Kootenai Tribes), and Russel Albert Daniels (Diné descent and Ho-Chunk descent)—whose works are featured in the museum's Developing Stories: Native Photographers in the Field exhibition in New York—discuss their personal journeys.
AWARDS AND HONORS
Sundance Institute
Merata Mita Fellowship
Caroline Monnet (Anishnaabe/French), multi-disciplinary film artist based in Montreal, has been selected by the Sundance Institute as the recipient of the 2023 Merata Mita Fellowship, created for Indigenous women-identified artists in the process of feature film production. This annual fellowship is named in honor of the late Māori filmmaker Merata Mita (1942-2010) and each year is announced at Sundance Film Festival's Native Forum Celebration.