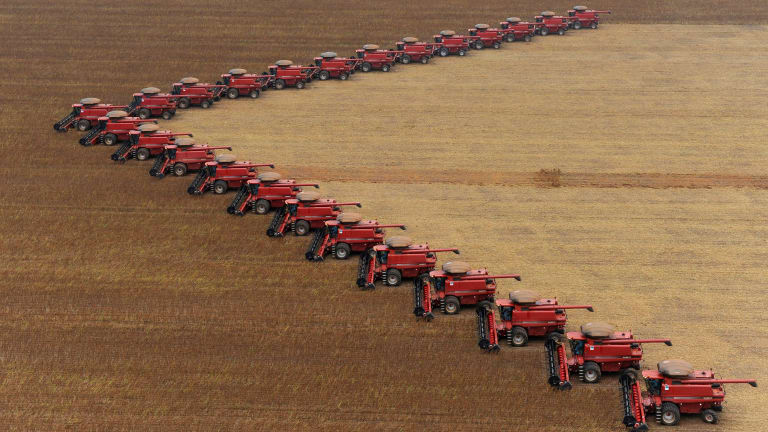 GLOBAL INDIGENOUS: Learning from Native people to protect the environment
Coverage around the world on Indigenous issues for the week ending Jan. 22, 2023
Deusdedit Ruhangariyo
Special to ICT
Around the world: Pesticide poisoning threatens Indigenous people in Brazil, special training in Canada provides doula training for Indigenous communities, and Native land management preserves forests in the Amazon
BRAZIL: Indigenous communities face exposure to pesticides
Indigenous people living in the Mato Grosso agricultural region in Brazil are facing some of the highest concentrations of pesticides in the country, according to a new study reported by Mongabay.com on Jan. 16.
The report, issued by the non-govermental organization Operação Amazônia Nativa in collaboration with the Federal University of Mato Grosso's Institute of Public Health, found pesticide residues in 88 percent of the plants collected in the area, including medicinal herbs and fruits.
SUPPORT INDIGENOUS JOURNALISM. CONTRIBUTE TODAY.
High levels of pesticides were also found in ecosystems and waters far from fields of crops grown in the region — including the toxic substance, carbofuran, which is banned in Brazil, Europe and the U.S., according to the study.
The study concluded that virtually every inhabitant of Mato Grosso is estimated to have been exposed in 2018 to 65.8 liters of pesticides. Exposure was even higher for people living in rural cities — they were estimated to have been exposed to 300 liters per inhabitant each year.
"These problems are very worrying for us," said Edna Zolozoiqueimairo, a member of the Tirecatinga Indigenous territory who told Mongabay that people in her village rely on polluted rivers for drinking, cooking and bathing.
Mato Grosso is located where the Amazon rainforest, the Cerrado tropical savannah and the Pantanal wetlands converge, and is an area of significance for climate stabilization. It is among Brazil's top producer of cotton, a crop that relies heavily on pesticides.
Agricultural leaders in Brazil disputed the findings and questioned the number of people far from the crop regions who were impacted by pesticides.
CANADA: Bringing birthing back to Indigenous communities
A Canadian program is providing virtual training for doulas to bring birth knowledge back to Indigenous families and communities, CBC News reported on Jan. 23.
The Manitoba-based Zaagi'idiwin Indigenous Doula Training program received 300 applications in 12 hours after a recent training session was announced, according to Melissa Brown, Anishinaabe from Sagkeeng, and Candace Neumann of the Red River Métis.
Zaagi'idiwin, which means "love" in Anishinaabemowin, gives priority to Indigenous students, CBC News reported.
"We have been systematically disconnected from those teachings around pregnancy, birth and postpartum," Brown said. "Birth has been removed from our communities."
The role of a doula is different from that of a midwife, Brown said. A doula is trained to provide advice and information and to offer emotional and physical comfort to a mother before, during, and after the birth of a child, often relying on traditional teachings and ceremonies. A midwife is a health-care provider focused on clinical care.
Brown said she developed the practice from own experience of giving birth to two daughters and a stillborn son. She said the training addresses the potential for grief and loss, and how to support people in those circumstances. 
AMAZON: Indigenous land management good for carbon levels
Forests managed by Indigenous communities tend to be carbon sinks rather than carbon sources, while areas under different management are often less predictable, according to a new study reported by Mongabay.com on Jan. 19.
Indigenous communities treat the land as a source of food, medicine, materials and cultural support, which encourages them to sustain the natural resources, according to the report from the World Resources Institute.
"As more forests are lost and converted to other uses, Indigenous and other community forests stand out as stable carbon sinks that must be secured," the report said, according to Mongabay.com. "Should community forests be degraded or lost, large stocks of carbon would be released into the atmosphere and the lands would no longer be able to sequester the same amount of carbon."
Sequestering or isolating carbon is one of the main approaches for capping the global temperature rise at less than 1.5° Celsius (or 2.7° Fahrenheit) above pre-industrial levels.
The Amazon is on the brink of "tipping over," experts said, from being a net sink to a net source, making the global temperature goal much more difficult to meet, Mongabay.com reported.
Lands outside of Indigenous management are now sources of carbon, according to the report's co-author Peter Veit, director of WRI's Land and Resource Rights Initiative.
"It's yet more evidence of the contributions of Indigenous people to climate change mitigation," Gibbs said, according to Mongabay.com.
My final thoughts
My final thoughts are on yet another report that clearly indicates that areas of the Amazon under Indigenous management are better for the climate. I urge governments and all other stakeholders to use this important information for the future generations. You must stop invading Indigenous lands and territories if you want to win the precarious climate change fight. If we don't use expert knowledge to our advantage, history will judge us harshly.
Global Indigenous is a weekly news roundup published every Wednesday by ICT (formerly Indian Country Today) with some of the key stories about Indigenous peoples around the world.
Our stories are worth telling. Our stories are worth sharing. Our stories are worth your support. Contribute $5 or $10 today to help ICT carry out its critical mission. Sign up for ICT's free newsletter.