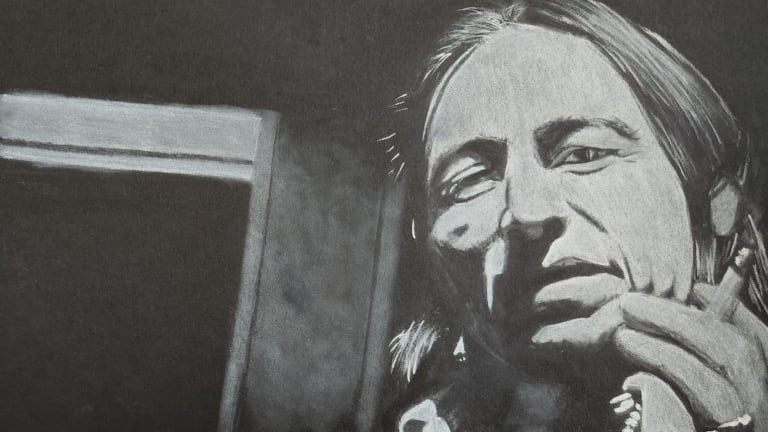 Honoring the father: Artist son pays tribute to activist John Trudell
Wovoka Trudell debuts exhibit of portraits he created over the years
Sandra Hale Schulman
Special to ICT
Indigenous artist Wovoka Trudell pays homage to his late father — storied political activist, poet and musician John Trudell — with a new exhibit.
After years of drawing sophisticated charcoal portraits of singers and animals, Trudell has finally put together a show of portraits he created from photos of his father as he worked, performed and raised awareness of Indigenous human rights, land and language issues.
The show, "Trudell Memory-ing the Dreams, A collection of portraits by Wovoka Trudell," will be on display at the younger Trudell's gallery, OneSixSix, at 166 Bridge St. in Las Vegas, New Mexico, from Jan. 13-28. Most of the pieces will be available for purchase.
Wovoka Trudell, Santee Dakota, named for the Paiute creator of the Ghost Dance movement, was born on Alcatraz in 1970 during the occupation. He told ICT he still communes in prayer with his father, who died in 2015 of cancer at age 69.
SUPPORT INDIGENOUS JOURNALISM. CONTRIBUTE TODAY.
He talked to his father before he died about a possible exhibit.
"I had a little talk with Dad and he said, 'It's time,'" Trudell said. "This tribute has been in the making for some time now, and I am honored and proud to say that it is finally happening."
'Tribal Voice'
John Trudell was a Santee Dakota political activist, performance artist, actor, and poet.
He was among a group known as "Indians of All Tribes" who occupied Alcatraz in 1969. He used his broadcasting experience from college on the airwaves of "Radio Free Alcatraz," and became a national spokesman for the occupation.
He went on to become a senior leader of the American Indian Movement, including a stint as co-chairman in the 1970s.
He developed his poetry and performances in the 1980s, setting his poems to Native music.
His book, "Living in Reality," was published in 1982, and his first album, "Tribal Voice," debuted in 1983, drawing support and acclaim from such musicians as Bob Dylan, Jackson Browne and Willie Nelson.
Trudell's musical works, many with the band, Bad Dog, included "A.K.A Grafitti Man" in 1986, "Blue Indians" in 1999, and "Wazi's Dream" in 2015. His album, "Bone Days," in 2001, was produced by actress Angelina Jolie, whose mother, Marcheline Bertrand, was in a relationship with Trudell until her death in 2007.
Trudell also worked as an actor, appearing in such films as "Pow Wow Highway" in 1989, "Thunderheart" in 1992 and "Smoke Signals" in 1998, and in the documentary, "Incident at Oglala" in 1992. His life is highlighted in the documentary, "Trudell," which premiered in 2005 at the Sundance Film Festival.
But he drew controversy with his testimony in the 2004 trial of Arlo Looking Cloud, a man accused of killing AIM member Anna Mae Aquash in 1975, prompting a boycott of his music by a Canadian youth movement. Looking Cloud and another man, accused gunman John Graham, were convicted in the death.
Trudell later worked with Willie Nelson in co-founding the Hempstead Project Heart, which came under the Earth Island Institute in 2012 to promote the environmental and economic benefits of legalizing industrial hemp.
He died Dec. 8, 2015. His family included some of his last messages to Indian Country in a press release.
"I want people to remember me as they remember me," he said.
Family history
At the time of the Alcatraz occupation, Trudell was married to his first wife, Fenicia "Lou" Ordonez, who gave birth to Wovoka at the prison site in 1970. The couple also had a daughter, Tara Evonne.
Wovoka Trudell doesn't have much memory of his time on the island but said he has visited several times over the years. The Heather Rae documentary, "Trudell," includes footage of John Trudell on Alcatraz with his baby boy.
The couple divorced in 1970, and in 1972, he married Tina Manning, a Duck Valley Shoshone Paiute water activist. Manning was pregnant with their fourth child when she, their children and her mother died in a suspicious fire in 1979 at her parents' home on the Duck Valley Reservation in Nevada. Trudell long believed the fire was meant to punish him and his wife for their activism.
Wovoka said his bond with his father endured, even as the elder Trudell threw himself into activism and away from his family, eventually settling in Los Angeles.
"My relationship with Dad was always a good one. It's always been a strong one," he said. "He's always been someone I looked up to, not just as a father but as a human being. I've always appreciated his guidance and faith in me to be the person I'm meant to be. We have a strong connection even now — he is still guiding and teaching me. He has helped me so much since he transitioned. A lot of healing has taken place."
Wovoka said his father never tried to influence any decisions he made, or how he lived his life, offering advice and information and trusting him to choose the right path.
"I had an opportunity in my early 30s to build on that when I moved out to Los Angeles," he said. "At that time, we saw each other or spoke to each other on a regular basis, sometimes daily. There was a love and respect that had grown, where our conversations and interactions weren't just father to son, but as peers, almost. I could always count on him to help me, no matter how I needed it."
His father always knew what to say, he said.
"If I felt lost or, for lack of a better word, confused, or just needed some advice, he always knew how to speak to me, and which version of me to speak to — as his son, or as a man, or both — and he always listened to what I had to say," he said.
Finding his passion
Wovoka Trudell said both of his parents were artists, so there was no surprise he would also turn to art.
"Art has always been a part of my life," Wovoka told ICT. "I had an interest in visual art, particularly drawing, from an early age. I realize now that I had a natural knack for it from the beginning, an intuitional sense of how to channel whatever it was that I was seeing into art. My parents also saw this and have always been extremely encouraging and supportive."
He said it soon became clear he was meant to be a visual artist.
"The why and how of it all are pretty much one and the same," Wovoka said. "As I grew older and continued to draw, it developed from just something I was able to do into something I became. The 'hobby' became passion, and I reached a place where everything I created, or recreated, I put my heart and soul into it — everything from simple, quick sketches to long, intricate, time-consuming pieces. They all have some of me in them. It's how I give life to my work."
Wovoka said his father had an amazing sense of humor that many people never got to see. He inspired his art by always bringing along a pad and pencils.
"I was just always drawn — pun intended — to drawing," he said. "Each piece with its intricacies, the minute details, the beauty of what can be born of pencil strokes, and how many different techniques can be used to achieve similar results. That always spoke to me in a way that nothing else could, and I finally reached a point in my life where I grew to learn and understand it.
He continued, "I joke a lot about how the magic is in the pencils and all I did was support them. I still think that, but I also believe they do the same for me. Art, for me, has long been therapeutic. It has also been a way for me to connect with the spirits — they seem to like to have some input sometimes, which I've learned not only to accept, but to appreciate."
John Trudell published his book, "Living In Reality," after the death of his wife and children. He later said the poems were more than lines of poetry, they were lines he needed to hold onto in his shock and grief.
He told Wovoka one day that perhaps he could do the cover art for one of his books. He understood that his son's way of communicating was visual, Wovoka said.
"I knew then and still know now that he meant that," he said. "He always knew that art is important. It's a way to express ourselves and communicate, and there's always a truth to it. He told me once that he always wanted me to continue to draw when I was young, because he said it was a way for children to express what was in their heads when they didn't know how to use their words to describe their thoughts."
Watching his father at work inspired his own life, Wovoka said.
"Seeing how passionate he was about his writing — I remember being on the road, or even just sitting in his living room with him, and he'd pull out a little notepad or grab a napkin because the words would come to him — and realizing that, as a creative, it never stops," he said. "That always inspired me."
Paying tribute
Wovoka's drawings of his father in the show are taken from photos, capturing him speaking publicly, in candid moments, and in repose, thoughts swirling in his shaggy-haired head.
"I drew my first portrait of Dad about a week and a half before he transitioned, and that particular piece will always be most important to me because he got to see it," Wovoka said.
"Over the past seven years, I've probably drawn him close to 30 times, usually on his birthday or the anniversary of his transitioning, or both," he said. "It's been a good way to connect with him, because for the time that I'm sitting at my table drawing him, we're back in his living room in Santa Monica, or we're sitting in his hotel room in Taos or Santa Fe, and those are special memories that always come back and they're real."
Wovoka now runs the OneSixSix art gallery, near the historic Old Town Plaza in Las Vegas, New Mexico, according to the gallery website. He said the proceeds from the sale and show will go toward future projects.
"I'd been wanting to pay tribute and honor him for some time now, and I'm in a place now where I can do that," Wovoka said. "The proceeds from this exhibition will help us with any other projects moving forward — projects that will allow us to continue to keep his legacy alive for those who have been here and those who are just arriving."
He continued, "His words are powerful, and I want to keep them, and him, around for the future generations to help them, to inspire them, to move them. This is a good way to help with that."
Our stories are worth telling. Our stories are worth sharing. Our stories are worth your support. Contribute $5 or $10 today to help ICT carry out its critical mission. Sign up for ICT's free newsletter.