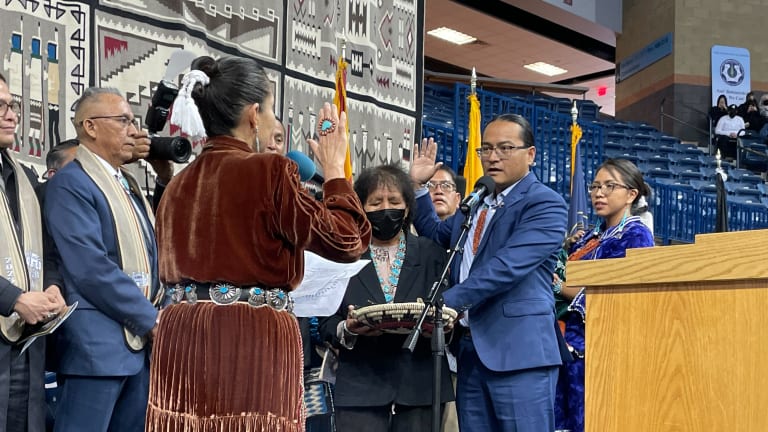 Navajo Nation swears in historic president, vice president
Buu Van Nygren is the youngest person to serve as the Navajo Nation president; Richelle Montoya, is the first female VP
Kalle Benallie and Pauly Denetclaw
ICT
FORT DEFIANCE, Ariz. — Before he was sworn in Tuesday afternoon, the new president for one of the largest tribes in the country looked confident, maybe a little nervous.
Buu Van Nygren was wearing his signature outfit, a navy blue suit with a light blue button up and a red coral necklace, as he paced the hallway, located just off the main stage. He shook his arms and shoulders before turning around to walk back up the hallway.
He was minutes from being introduced on stage alongside his wife, former Arizona state representative and attorney, Jasmine Blackwater-Nygren.
Nygren's name was announced and thousands cheered at the Bee Hółdzil Fighting Scouts Events Center in Fort Defiance, Arizona. He walked out with a wide grin and waved at his constituents.
When he addressed the crowd, Nygren focused on a simple but powerful message that he used during his campaign.
"We have one mission, let's get basic services for the Navajo people," he said in his inauguration speech. "We need water. We need roads. We need broadband. We need better public safety."
SUPPORT INDIGENOUS JOURNALISM. CONTRIBUTE TODAY.
Many of those who watched the Navajo Nation presidential inauguration had never been to an event like that before, but few said they particularly went to the event because Nygren is making history.
Nygren, at 36, is the youngest Navajo Nation president elected. His vice president, Richelle Montoya, is now also the first female vice president in the tribe's history.
Nygren selected Richelle Montoya, one of his volunteer campaign workers, to be his vice-president. Nygren heard the Navajo people's calls for a woman to be selected as vice-president and said this was important to him.
Montoya was previously chapter president of Torreon/Star Lake Chapter in the eastern agency of the Navajo Nation.
Lenell Francisco, Navajo, described the event as "lots of people — traffic was crazy. Gave me a reason to dress up today. I thought everything went well," she said.
She voted for Nygren and hopes to see a change happen.
Other attendees were from Nygren's hometown and wanted to see his success story as it unfolded.
Ada Haskan, Navajo, took note of Nygren's challenging background. He was born into a single-parent household, raised by a grandmother and had little money.
"I'm very happy for him, really happy," Haskan said. "He's like our next-door neighbor, a little way from our home."
Nygren is an alum of Red Mesa High School which Haskan's children attended and grandchildren now attend. Her children were classmates with Nygren and told her how he talked about one day being president.
Sign up for ICT's free newsletter. 
The school is located in the upper northeast of Arizona, just below the Utah state line.
Haskan thinks he will be a good leader.
She was joined by her daughter Vernall Molton, Navajo, who said she's inspired and humbled by Nygren's accomplishment at such a young age.
"The way I look at it is like they say when you're 40 or 50, that's when you realize life, you understand life," she said. "He's young. I say 'How does that happen?'"
Molton said she's now interested in what he plans to do in the future and will keep an eye on Navajo Nation politics moving forward.
"I went to school in Red Mesa, and I didn't think anybody would be somewhere here like this," she said. "I guess the teachers are doing a good job."
The Nygren administration's sole focus is streamlining services and systems for the Navajo people. For instance, in October, he told ICT that he would revamp information technology on the Navajo Nation to make the high-tech processes more efficient. He also said he wants the Navajo Nation to focus internally, before developing a dependency on the federal government.
"Right now we don't truly understand the core development issues within the nation if we don't clean house first," Nygren said. "In order for us to really, truly understand how the federal government is holding us back, let's figure out and make ourselves efficient, effective first. Most of the time, it's internal Navajo Nation laws and internal Navajo Nation policies and procedures that's holding us back."
Commission President of the Naschitii Chapter Rhonda Herbert, Navajo, said she thought the ceremony was beautiful and well organized. She worked with him when he was the chief commercial officer at the Navajo Engineering and Constructing Authority and he visited their chapter.
Nygren had previously ran as a vice-presidential candidate alongside Joe Shirley Jr., who was seeking a third term in 2018. The pair lost by a huge margin to Jonathan Nez.
For the last four years, many wondered and even asked Nygren if he would be running for president. He kept the answer close until 2022 when he left his job at the Navajo Engineering and Construction Authority to start his campaign.
Herbert said he visited many elders and those who were in need. She said he coordinated scattered water lines and power lines together to provide services to rural homes.
The Navajo Nation is broken into five agencies that contain 110 local government subdivisions, or chapters, that have their own chapter house.
She added that her 14-year-old daughter was very interested in attending the event and feels that students, especially high school students, who aren't into politics may want to follow the political landscape of the Navajo Nation due to Nygren.
Dwyane Francisco, Navajo, didn't vote for Nygren but attended the inauguration anyway because he wanted to support the new administration.
"I came to support and have respect and see how it goes," he said.
He grew up in Denver and Texas and voted for the first time for the 2022 presidential election, which was in part due to just being in the area.
He said after attending the inauguration he'll be more involved in what's happening on the Navajo Nation.
Nygren announced across his social media his appointments for division directors on Monday: 
Ethel Branch is coming back to serve again as attorney general,
Micheal Anderson is the division director for the Department of Public Safety,
Tony Skrelunas, former head of commerce for the Navajo Nation, will lead the Division of Economic Development,
Justin Ahasteen is the executive director for the Navajo Nation Washington Office
and Kimberly Yazzie will head the Navajo Department of Health.
The rest of the division director appointments can be found here.
"We have chosen a team of executive directors that will carry out the fullest vision of building a more resilient and independent Navajo Nation," Nygren said in a press release. "I have also committed my support for their immense wealth of institutional knowledge that will allow us to hit the ground running. This is the team that will lead us forward as a Nation."
Our stories are worth telling. Our stories are worth sharing. Our stories are worth your support. Contribute $5 or $10 contribution today to help Indian Country Today carry out its critical mission.