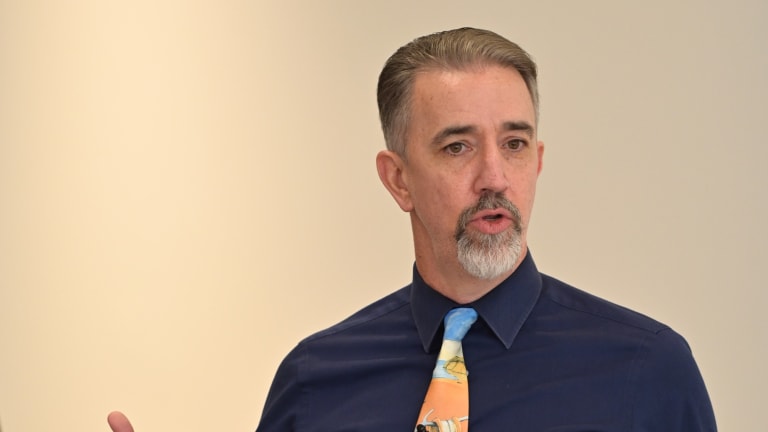 Biden Administration righted a tribal workforce development wrong
Indian Country needs to work to keep it that way
Ian Record
Thirty years ago last month, Congress passed Public Law 102-477, considered by many in Indian Country as the most important federal advancement for tribal workforce development to date. Known simply in tribal circles as "477," this unique federal legislation provided federally recognized tribal nations and tribal consortia the choice to combine various employment, training, and related grant programs administered by four federal agencies into a comprehensive, tribally customized workforce development plan with a single budget and reporting system.
477 proved an immediate and rousing success, affirming once again that tribal self-determination is the only policy that works for tribal nations and their citizens. In addition to the many benefits 477 brought participating tribal nations – from expanded, more effective, and more streamlined services to administrative cost savings to reduced federal reporting burdens – it also dramatically improved the lives of Native people who participated in tribal 477 programs in the form of increased job placements, much higher hourly wages, and nearly universal positive employment and education outcomes.
These proven benefits prompted Congress to amend the law in 2000 to provide 477 Programs greater flexibility by giving them the option to use a portion of their 477 dollars for tribal economic development efforts, which tribal nations have used to great advantage for, among other things, cultivating small businesses owned and operated by their citizens.
Yet tribal leaders and workforce development practitioners – recognizing 477's full, untapped potential – pushed for more. Over the next 17 years, they relentlessly lobbied Congress, with their tireless efforts finally culminating in Congress's passage of Public Law 115-93, which significantly expanded 477 to further enhance tribal nations' ability to meet their employment, training, education, economic development, welfare reform, and related needs as they see fit. Whereas the original legislation limited 477 to programs under four federal agencies, the expanded law: (1) broadened 477 to cover eight additional agencies, (2) made what had been a 25-year demonstration program permanent, (3) streamlined and clarified the federal government's 477 Plan review and approval process, and (4) designated four types of funding (including competitive and discretionary funding) that tribal nations can choose to include in their 477 Plans. Critically, the law also endowed the Secretary of the Interior with the exclusive authority to approve tribal 477 plans and put the Department of the Interior in charge of facilitating the approval process. Meanwhile, the legislation gave the 12 agencies one year to design and ratify an inter-agency Memorandum of Agreement establishing how they would work together to administer the law.
But tribal nations' celebration of this hard-fought legislative victory proved short-lived. DOI and the other federal agency leaders waited until just two weeks before the mandated one-year deadline to meet with the 477 Tribal Workgroup and tribal leaders for the first time to discuss the agreement, raising suspicions the agreement had already been forged with zero Indian Country input. The National Congress of American Indians immediately sounded the alarm, releasing a statement demanding the agencies' full and lawful implementation of the 2017 law in accordance with both its letter and spirit, with then-NCAI President Jefferson Keel declaring, "The legislation is crystal clear: it is up to tribal nations and Native organizations – and not any single federal agency – to determine which federal programs should be included in 477 Plans presuming they meet the statutory criteria. That is what tribal self-determination means, and that is what the law requires."
Just a week later, tribal nations' worst fears were confirmed. What should have been the Trump Administration's signature Indian Country policy achievement was obliterated by an inter-agency agreement dismissive of tribal self-determination and purposefully constructed to enable unwilling agencies to avoid complying with key provisions of the law. Among its many grave flaws, the agreement unlawfully: restricted the types of agency programs subject to the 477 law, limited eligibility for programs funded through competitive grants, gave agencies unfounded authority to delay 477 Plan reviews through multiple extensions, and allowed agencies to deny waiver requests for reasons found nowhere in the law. Most troubling was the agreement's relegation of the Interior from lead federal agency and ultimate arbiter of 477 Plan approvals to a rubber stamp of other agencies' exercise of unlawful veto authority over certain programs tribal nations had every right to include in their plans.
The agreement prompted a formal rebuke from the Congressional co-sponsors of the 2017 law, who proclaimed "the MOA manifestly fails to implement the Act consistent with the statutory language. In fact, much of the language in the MOA reintroduces the very problems we sought to resolve through the legislation." For the remainder of the Trump Administration's term in office, however, Congress and Indian Country's unremitting chorus call for a rescinding of the agreement fell on disinterested ears, and as expected, the agreement was left to serve its intended purpose – unwilling agencies defied the law as they saw fit, and other agencies grew confused as to which of the two conflicting documents – the law or the agreement – should take precedence. In a moment epitomizing this disgraceful state of affairs, a high-ranking Department of Labor official flatly admitted in explaining the labor department's rejection of a program contained in tribal 477 plan, "We wanted to follow the law, but the MOA prevented us from doing so." The agreement also had a chilling effect on tribal nations' use of 477, as many with existing 477 plans thought twice about adding eligible federal programs that agencies had unlawfully denied elsewhere; other tribal nations interested in going 477 decided to hold off until the uncertainty created by the agreement was resolved.
However, the arrival of the Biden Administration brought with it a renewed commitment to the federal government's trust and treaty responsibilities to tribal nations, a government-wide mandate for tribal consultation, and a full embrace of the 477 law and everything it stands for. After several months of ongoing conversations between the Administration and Indian Country, Vice President Kamala Harris announced at the 2021 NCAI Annual Convention that, in "a sign of our administration's respect for our nation-to-nation relationship," the Administration would renegotiate the 477 inter-agency agreement "to support tribal sovereignty."
Vice President Harris's announcement gave way to a genuine consultation process – with the Interior Assistant Secretary for Indian Affairs Bryan Newland and his staff appropriately at the helm – that spanned several months and solicited extensive input from the 477 Tribal Workgroup and tribal leaders from across the country. On Oct. 7, after nearly four years of Indian Country advocacy, the 12 federal agencies announced ratification of an updated agreement governing their implementation of the 477 law. Heeding Indian Country's long-shared wishes, the updated agreement eliminated the unlawful language of its predecessor, in the process returning the Interior (specifically the Bureau of Indian Affairs) to its rightful place as the sole decisional authority for approving tribal 477 plans and specific programs within those plans. In addition, the new agreement:
clarifies and streamlines 477 plan approval procedures and timelines;
establishes a forum to identify and resolve systemic conflicts among federal agencies or between those agencies and tribal nations regarding administration of the 477 law; and
bars other federal agencies from communicating with tribal nations about submitted 477 plans without the BIA's involvement.
Altogether, as the White House explained, the updated agreement "will better enable Tribal Nations to build up the economic resilience of communities through employment and training services based on Tribal goals and initiatives."
The result of tenacious tribal leaders and advocates and an Interior department that stepped up to the plate, the updated agreement represents a major step forward in Indian Country's long quest to realize the full promise for tribally self-determined workforce development embedded in the 477 law. But the work can't stop there, for the agreement is but pieces of paper, and it is up to tribal nations and their leaders to use the agreement as a tool day in and day out to hold federal agencies accountable to the law not just in rhetoric but in practice. With 292 tribal nations participating in the 477 program across the country and many more likely to join them with the updated agreement now in place, Indian Country can't afford to do anything less.
This opinion-editorial essay does not reflect the views of ICT; voices in our opinion section represent a variety of reader points of view. If you would like to contribute an essay to ICT, email opinion@ictnews.org.
More information about our guidelines: Submission guidelines.