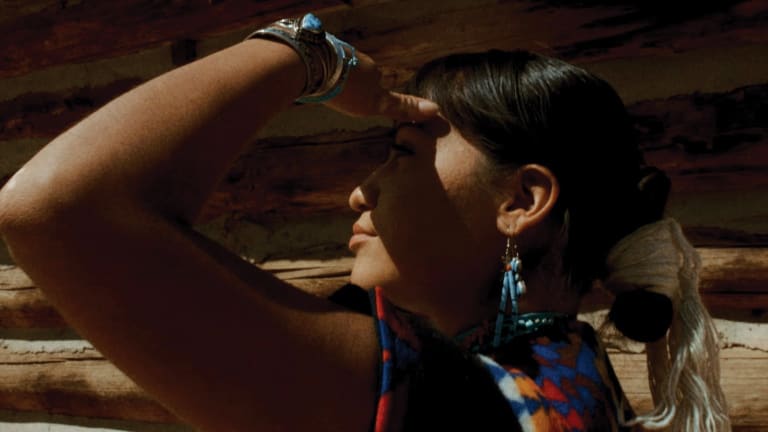 Indigenous films featured at 2023 Sundance Film Festival
'One of the strongest years in recent memory' for Native films
Sandra Hale Schulman
Special to ICT
Eleven of the most-anticipated Indigenous films of the year will be featured at the Sundance Film Festival, bringing issues such as sovereignty, identity, loss and redemption to international audiences.
The Indigenous films — which include high-profile actors and filmmakers as well as newcomers to the spotlight — were among 110 feature films and 64 shorts films curated for this year's festival out of nearly 16,000 entries.
The festival kicks off Thursday, Jan. 19, and continues through Jan. 29 in Park City, Utah. The festival this year will also include for the first time an Indigenous House, with IllumiNative, featuring discussions, music and events.
SUPPORT INDIGENOUS JOURNALISM. CONTRIBUTE TODAY.
"For Indigenous filmmakers, this is one of the strongest years in recent memory, not just in terms of the number of their films in the festival this year, but also in terms of the diversity of their work," Adam Piron, director of the Sundance Institute's Indigenous Film Program and a programmer at the Sundance Film Festival, told ICT.
"It's a great year for Indigenous cinema and points to how things have not only been changing, but thriving over the past year."
The films range from dramatic narratives and documentaries to experimental works, horror and comedy, and include one of the first films to receive the Cherokee Nation's Film Incentive launched in 2022.
Piron said the Indigenous films offer an impressive lineup.
"You can't really go wrong with seeing any one of them over another," he said. "The thing I love about this year is that it's really a chance to dive deep and fall into the rabbit hole of what is happening in Indigenous cinema and what its limitless possibilities are."
Read more:
— MMIW documentary to premiere at Sundance|
— After 2 virtual years, Sundance returns to the mountains
Themes are not used as a criteria in judging, though Piron said  certain issues made their way onto the screen.
"We don't curate the films according to any specific theme," he said, "but there are always things we can look back at and see that certain issues were certainly more prominent in the discourse that artists were trying to put through. Themes around land and the various forms of sovereignty that come from that was a pretty noticeable one this year, which can branch out into issues around the environment, the political, tribal rights, and beyond."
Those issues surfaced in a number of films, he said.
"You can see it in the literal interrogations of policy that get brought up in 'Bad Press' and 'Twice Colonized,' to what that can also look like on a personal level in 'Gush,' 'Sunflower Siege Engine,' 'Hawaiki,' 'Headdress,' and 'I Am Home,'" he said.
"It's especially central to 'Fancy Dance' and 'Murder in Big Horn,' and how those films really question why Indigenous communities have to face issues such as [missing and murdered Indigenous women] on their own land and largely through their own resources."
He continued, "It's an incredibly strong year, with 11 films from 11 very different artists. It's really a testament to the richness and diversity of creativity happening in Indigenous cinema."
Here is a list of the Indigenous films featured in the festival.
'Fancy Dance'
Director/producer: Erica Tremblay, Seneca–Cayuga, who co-wrote the script with Miciana Alise, Tlingit
Section: U.S. Dramatic Competition
When: Premieres Jan. 20
A Native woman kidnaps her niece from the child's White grandparents as she searches for her missing sister in what Sundance describes as "a nuanced account of the human costs of the missing and murdered Indigenous women epidemic and the possibilities of healing for those left behind."
The film includes Native talent and crew, including actors Lily Gladstone, Blackfeet and Nimíipuu, who will appear in "Killers of the Flower Moon" this year; Canadian Isabel Deroy-Olson, "Three Pines"; and Ryan Begay, Diné, "Breaking Bad." Officials from the Cherokee Tribal Film Office and other Oklahoma film officials are joining Tremblay and the cast and crew to support Native film during the festival.
'Bad Behaviour'
Producer: Desray Armstrong, Te-Aitanga-a-Hauiti and Ngāti Porou, New Zealand (with Molly Hallam)
Section: World Cinema Dramatic Competition
When: Premieres Jan. 21
The film follows Lucy, a former child actor played by Jennifer Connelly, who decides to seek enlightenment at a spiritual retreat as she works on her turbulent relationship with her daughter, who is a stunt performer. Written and directed by Alice Englert.
'Bad Press'
Director: Rebecca Landsberry-Baker, Muscogee (Creek)
Section: U.S. Documentary Competition
When: Premieres Jan. 22
A reporter with Mvskoke Media takes up the fight for transparency and access after the Muscogee (Creek) Nation begins to censor its free press.
'Gush'
Director/screenwriter/producer: Fox Maxy, Payómkawichum and Mesa Grande Band of Mission Indians
Section: New Frontier
When: Premieres Jan. 20
This film is a rumination on both male and female power that Sundance describes as "a stream-of-consciousness meditation on the impact of sexual violence and healing through collective joy."
'Twice Colonized'
Producers: Emile Hertling Péronard, Greenlandic Inuit; Alethea Arnaquq-Baril, Inuit; Stacey Aglok Macdonald, Inuit; and Bob Moore
Section: World Cinema Documentary Competition
When: Premieres Jan. 23
This film follows powerful Inuit lawyer Aaju Peter, who has fought for Indigenous peoples of the Arctic for many years, as she goes on a journey after the death of her son to reclaim her language and culture.
'Murder in Big Horn'
Producers: Razelle Benally, Oglala/Lakota and Diné; and siblings Ivan and Ivy MacDonald, Blackfeet
Section: Premieres
When: Premieres Jan. 22
The three-part documentary set on the Crow and Northern Cheyenne reservations examines the circumstances surrounding the disappearances of Indigenous women and girls in rural Montana in what Sundance describes as an epidemic "set in motion almost 200 years ago."
'Hawaiki'
Director/screenwriter: Nova Paul, Te Uri Ro Roi and Te Parawhau/Nga Puhi
Section: Short Film Program
When: Premieres Jan. 21
The film tells of a refuge called Hawaiki created by children of the Okiwi School as a refuge with spiritual and metaphysical connections for the Māori people.
'Headdress'
Director/screenwriter/co-producer: Taietsarón:sere "Tai" Leclaire, Kanien'kehá:ka (Mohawk) and Mi'kmaq
Section: Short Film Program
When: Premieres Jan. 23
A queer Native confronted by a non-Native wearing a ceremonial headdress at a music festival "retreats into his own mind to discover the right response from various versions of his identity," according to Sundance.
'I Am Home'
Director/screenwriter: Kymon Greyhorse, Navajo and Tongan
Section: Short Film Program
When: Premieres Jan. 20
This short film examines introspection and identity. As Sundance notes, "Although Indigenous people might look different from one another, deep down they are still the same and made from Mother Earth — mud, wood, love, and patience."
'Sunflower Siege Engine'
Director: Sky Hopinka, Ho-Chunk Nation/Pechanga Band of Luiseño Indians
Section: Short Film Program
When: Premieres Jan. 19
Various movements are woven together using documentation from Alcatraz, the reclamation of Cahokia, and the repatriation of tribal ancestors.
'Unborn Biru'
Director/screenwriter: Inga Elin Marakatt, Sámi
Section: Midnight Short Film Program
When: Premieres Jan. 20
A pregnant widow steals silver from a dead body to feed her daughter and survive, but soon discovers the silver is cursed.
More info
Films are available for viewing in-person over several days, and some are also available online during the festival. In-person and online packages are on sale for the 2023 Sundance Film Festival.
The Sundance Film Festival was founded by actor/producer Robert Redford, who has been a supporter of Indigenous causes and films for more than 40 years. After the success of the 1969 film, "Butch Cassidy and the Sundance Kid," Redford bought a ski area near Provo, Utah, and renamed it Sundance after his character.
He went on to found the Sundance Film Festival, which is now the largest and most prestigious festival for independent films, with workshop labs, grants and community screenings. The Sundance Institute opened the Indigenous Film Program in 1994.
Our stories are worth telling. Our stories are worth sharing. Our stories are worth your support. Contribute $5 or $10 today to help ICT carry out its critical mission. Sign up for ICT's free newsletter.