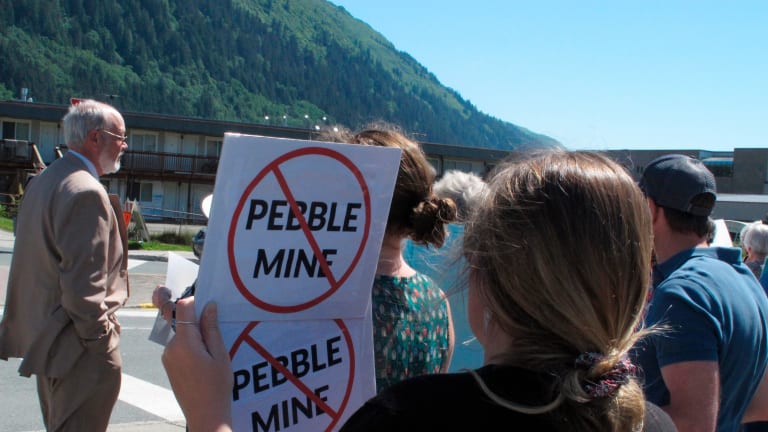 Pebble Mine takes 'one-two punch' as EPA weighs permit
Acquisition of easements cuts off areas needed for ore-transport road *Correction
Richard Arlin Walker
Special to ICT
The $20 million purchase by two nonprofit organizations of conservation easements on an Alaska Native corporation's lands delivers what one nonprofit leader calls "a good one-two punch" to the proposed Pebble Mine in Alaska.
But proponents of the mine continue to fight to win permits to extract precious metals from a site near Lake Iliamna — the largest lake in Alaska, a habitat for salmon that migrate to Bristol Bay, and home to one of the planet's five populations of freshwater seals.
The Conservation Fund and Bristol Bay Heritage Land Trust raised $20 million to purchase a 44,000-acre conservation easement on lands owned by the Pedro Bay Corporation, an Alaska Native Village Corporation whose shareholders are Aleuts, Yup'iks and Athabascans from the region.
Included in the easement is land that Pebble Limited Partnership, a wholly owned subsidiary of Northern Dynasty Minerals, had eyed for an industrial road from the proposed Pebble Mine to Cook Inlet. The conservation easements prohibit development and execution of any rights-of-way agreements needed to develop an industrial road across Pedro Bay Corporation lands.
SUPPORT INDIGENOUS JOURNALISM. CONTRIBUTE TODAY.
The proposed industrial road would have run just north of Lake Iliamna. Pebble Limited Partnership's other ore-transport option: ferrying it across the lake to a southern road leading to Cook Inlet. But that option would require construction of two ferry terminals, the driving of 253 pilings, and installation of a natural gas pipeline and other infrastructure, according to the U.S. Army Corps of Engineers' environmental study.
The fate of the Pebble Mine now rests with the U.S. Environmental Protection Agency, which will make a permitting decision by Jan. 30 based at least partly on the Army Corps of Engineers' Final Environmental Impact Statement. The proposed one-square-mile mine has faced opposition from relevant agencies within the Biden, Trump and Obama administrations, citing risks to the environment. Numerous tribal governments and organizations in Alaska also oppose the mine.
Mark Elsbree, senior vice president of The Conservation Fund, has called the acquisition a major blow to Pebble Mine.
"A historic effort was achieved by an Alaskan Native corporation and nonprofit partners to protect over 44,000 acres of critical salmon habitat in Alaska's Bristol Bay," he said. "The effort is a huge win for the future of Bristol Bay salmon, wildlife habitat, Alaska Native guardianship and the fight against Pebble."
But Northern Dynasty Minerals is holding out hope. In response to messages left for company officials, spokesman Mike Heatwole on Jan. 10 emailed ICT a message shared with other media.
"We respect the rights of Alaska Native corporation shareholders to make decisions about what to do on their lands and hope the Biden Administration will do the same for other Alaska Native corporation shareholders who may have differing views about what they would like to do on their lands, especially regarding the Pebble Project," Heatwole wrote.
"It is worth noting the U.S. Army Corps of Engineers Final Environmental Impact Statement for the Pebble Project shows it can be responsibly developed without harm to the Bristol Bay fishery and provide year-round jobs for the communities closest to the proposed project."
Dire warnings from EPA
The EPA's environmental statement, however,  continues with dire warnings about the project.
Pebble Mine would result in "changes in surface water and groundwater flows that could impact fish spawning, rearing, and off-channel habitat; increased sedimentation and turbidity in streams; impacts to fish migration; changes in surface water temperatures; and changes to surface water chemistry," according to the EIS statement.
And development of the mine would permanently remove approximately 99 miles of streambed habitat, according to the EIS.
"These impacts would be permanent, and certain to occur," the Army Corps reported in the EIS.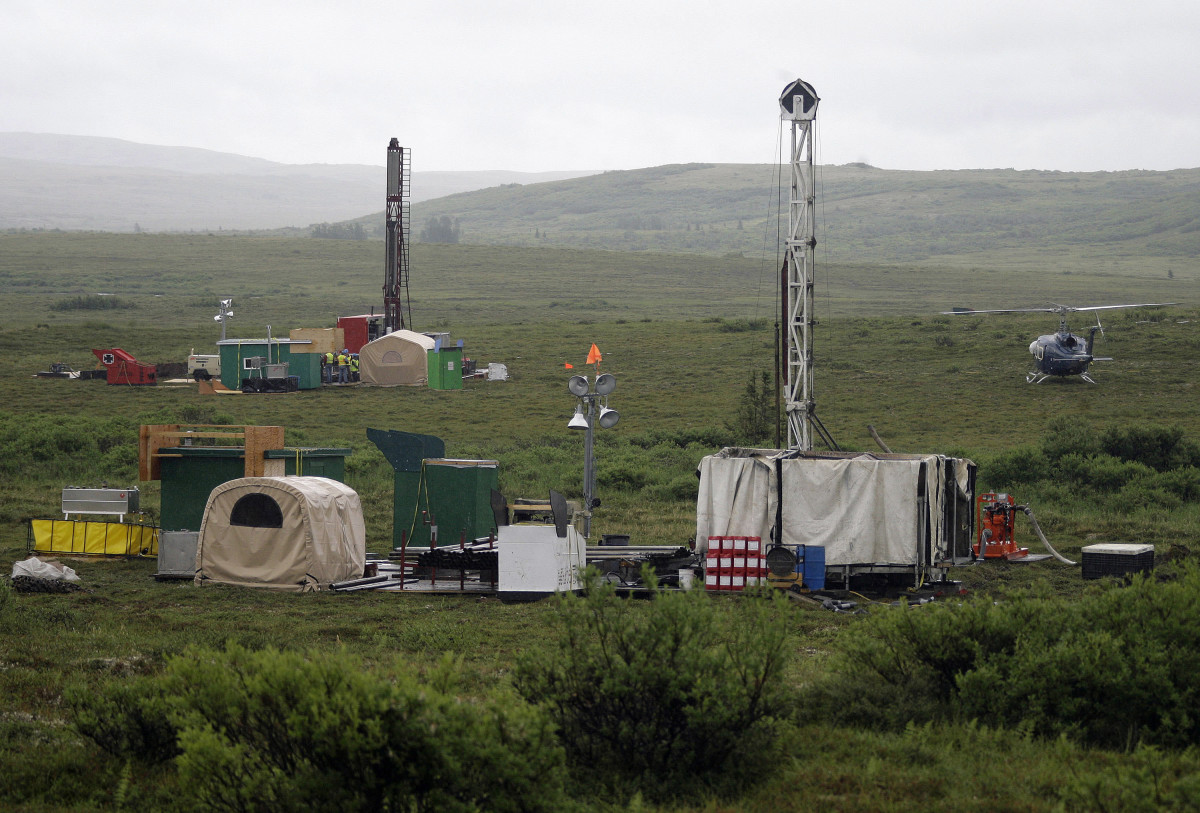 More than 2,200 acres of wetlands, including 105 miles of streams, would be permanently impacted by the discharge of dredged or fill materials. Another 858 acres of wetlands and other waters, including 4.6 miles of streams, would be temporarily impacted, according to the EIS.
Dust and dewatering would have "indirect impacts" on 1,662 acres of wetlands, including 75.3 miles of streams.
The Koktuli River and Upper Talarik Creek watersheds would have a wetlands loss of 6 percent, which would increase to 23 percent under mine expansion, according to the EIS.
Those impacts are unacceptable, Bristol Bay Native Corporation President Jason Metrokin said in a statement issued in 2020.
"These impacts are the result of mining just 13 percent of the ore deposit; Pebble Limited Partnership acknowledges the mine is likely to expand in the future," Metrokin said at the time.
Daniel Cheyette, the Bristol Bay Native Corporation's senior vice president for lands and resources, said the loss of the proposed road across Pedro Bay Corporation lands may mark the end to the project.
"Other corridors were considered in the [environmental impact statement] but these all had to utilize ferries to take everything across Iliamna Lake, either on a north-south route or east-west route," Cheyette wrote to ICT in an email. "These alternatives were broadly opposed by many groups, including many of the people who live along the lake in six communities [and] who rely on the lake for subsistence resources and transportation. The Corps also identified these other routes as more environmentally impactful than the preferred route. That, of course, makes it even less likely the Corps or EPA would ever issue a permit for the project."
Benefits vs. costs
The Pebble site is owned by the State of Alaska, which acquired it in 1974 in a land swap with the federal government and Cook Inlet Region, Inc. The site is located 17 miles from the villages of Iliamna and Newhalen, and about 200 miles southwest of Anchorage.
Cominco Alaska discovered deposits of precious metals there in 1988 and explored mining potential until 1997. Northern Dynasty Minerals acquired Cominco Alaska's claims in 2001 and over several years of exploratory drilling found expansive deposits of copper, gold, molybdenum, silver and rhenium.
The Pebble Mine project attracted millions of dollars from investors and corporate partners such as Anglo American, Mitsubishi and Rio Tinto Group. But by 2014, as political and public opposition to the mine grew, all three corporate partners had backed out. Northern Dynasty Minerals reported that, as of the third quarter in 2022, it had $151 million in assets — including $24.5 million in cash — with $151 million in equity and $7.6 million in liabilities.
Northern Dynasty Minerals touts the economic benefits that would result from the Pebble Mine: creation of 2,000 jobs for construction of mine-related structures, installation of utilities and infrastructure; and 850 more for operation of the mine.
Currently, most jobs in the region are in health care and social services, local government, retail trade, accommodations and food services, and commercial fishing.
Household income varies widely. In the village of Iliamna, where visitors fly in to stay at fishing and hunting lodges and enjoy outdoor activities, the annual median household income is $51,519, according to U.S. Census data. In Newhalen, the village closest to the proposed mine, the median household income is $41,607. In Levelock, a village on the west bank of the Kvichak River 47 miles downstream from Iliamna Lake, it's $22,917, according to the EIS.
"Although the cost of living can be high in rural communities, subsistence hunting and fishing helps provide for the needs of families and communities," the Army Corps wrote in the EIS.
But the tradition of subsistence hunting and fishing, which often involves sharing to ensure the needs of the community as a whole are met, could take a hit.
"If high-harvesting members of [the community] find project-related employment and have less time for subsistence activities, the rest of the community and households in other communities could end up receiving less wild food through sharing and trading relationships," the EIS states.
"Therefore, the impacts would be long-term, lasting through mine closure. … Potential negative impacts could be from actual or perceived decreases in access to, availability, and/or quality of subsistence resources, which could also adversely impact community health, well-being and cultural identity."
Environmental risks
Alaska Native leaders and nonprofits say the environmental risks from the Pebble Mine far outweigh any wealth that could be yielded from the mine.
Rock that is extracted during mining and left behind as waste — known as mine tailings — often contain heavy metals that can acidify water it contacts. Tailings are typically stored in pits that are dammed to prevent contaminated water from escaping.
The Army Corps of Engineers determined "the probability of a full dam breach to be very low" for the Pebble Mine tailings dam. But history shows that when a tailings dam does breach, it unleashes a torrent of human and environmental consequences.
There were 57 major tailings dam disasters reported worldwide between 2000 and 2021, according to Australian Mining magazine.
A tailings dam failure in April 1998 near Seville, Spain, released approximately 528 million gallons of pyrite sludge and another 1 billion gallons of contaminated water into the Guadiamar River. Some 6,560 acres in the Doñana Nature Park and 242 acres in Doñana National Park were contaminated. Cleanup cost more than $225 million.
A tailings dam failed on Aug. 4, 2014, at the Mount Polley mine in British Columbia, releasing approximately 4.4 billion gallons of contaminated water into Polley Lake, Quesnel Lake and Hazeltine Creek. Subsequent tests revealed zinc levels that exceeded chronic exposure limits for aquatic life, lead levels that exceeded the regulatory standard for soils, and heavy metal levels that exceeded drinking water standards in groundwater, according to the British Columbia Ministry of Environment and Climate Change Strategy. The mining company paid for a six-year habitat and wetland restoration, and water quality continues to be monitored.
Of 22 First Nations and one non-First Nation community surveyed by the First Nations Health Authority after the Mount Polley tailings dam failure, 21 reported a decrease in individual fishing practices, six reported an impact on their commercial fisheries, and all reported emotional stress in their communities and an "increased administration burden" for their First Nation or community governments.
In Nov. 5, 2015, a tailings dam failed at the Samarco Mariana Mining Complex near Brazil, killing 19 people in two downstream villages and polluting 415 miles of rivers and streams. A little over three years later, on Jan. 25, 2019, a dam collapse near the Corrego de Feijao iron mine in Brazil sent a 32-foot wave of mining wastewater plowing into the town of Brumadinho, killing at least 270 people.
"The vast majority of active tailings facilities — and many that have been closed — have operated without any issues of concern for society," the United Nations Environment Programme reported. "However, the number of failures that continue to occur is rightfully deemed unacceptable by both those who own/operate them and by society in general."
Some jurisdictions have taken different approaches to prevent mining disasters in their watersheds. In January 2022, Imperial Metals surrendered its mineral and mining rights near the headwaters of the Skagit River to the government of British Columbia in exchange for $24 million raised by the Skagit Environmental Endowment Commission, a U.S.-Canadian commission that works to protect the Skagit River watershed.
Looking ahead
Tim Troll, executive director of the Bristol Bay Heritage Land Trust, hopes the conservation easements will be enough to derail the proposed Pebble Mine. He said Pedro Bay Corporation approached the trust and The Conservation Fund out of concern "that maybe future corporation shareholders may do something different than current shareholders, most of whom grew up in Pedro Bay," he said. "Their concern, and our concern, is the salmon habitat. This deal would have made sense for us regardless of Pebble Mine."
He added, "Between blocking the road, and if EPA comes down blocking the mine, I wouldn't say it's a nail in the coffin but it's a good one-two punch. Whether Northern Dynasty Minerals comes out for the last round is the question."
Half of the funding to purchase the land easements was provided by The Wyss Foundation, Patagonia's Holdfast Collective and Alaska Venture Fund, the nonprofits reported. The fishing industry contributed $2 million, Troll said.
Michael Jackson, chairman of the Bristol Bay Regional Seafood Development Association, urged the EPA "to enact strong, durable protections for critical salmon habitat in Bristol Bay."
"Over a million people have expressed their opposition to the Pebble Mine project and declared that Bristol Bay deserves permanent protections to preserve the subsistence way of life, sport fishing, and the most valuable and sustainable commercial salmon fishery on the planet," he said in the announcement of the conservation easement purchase.
"We are proud to be a part of this collective effort and are excited to see so many companies, foundations, individual donors and local associations step up to contribute the $20 million needed to achieve the Pedro Bay Rivers easements."
*Correction: Mark Elsbree, senior vice president of The Conservation Fund,  called the acquisition of easements a major blow to Pebble Mine. The attribution of his comments was incorrect in an earlier version of the story.
Our stories are worth telling. Our stories are worth sharing. Our stories are worth your support. Contribute $5 or $10 today to help ICT carry out its critical mission. Sign up for ICT's free newsletter.