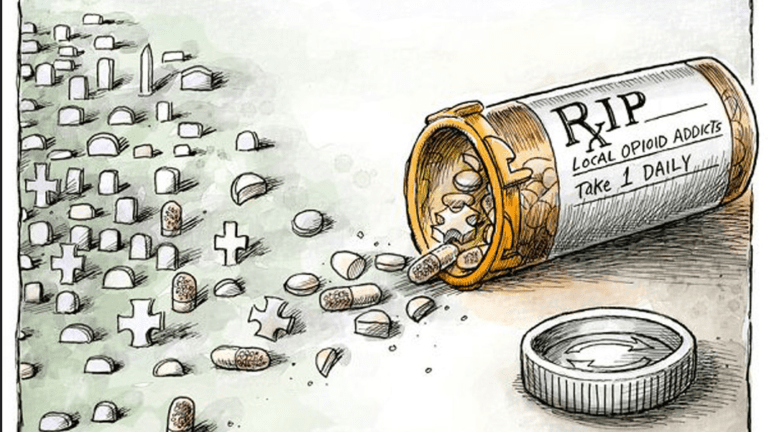 Tribal teachings on opioids
Culture, community 'decided to hold me up instead of putting me down'
Joaqlin Estus
ICT
Indigenous people are at higher risk of substance misuse and addiction than the general population. But they also have an added protective factor: their traditional cultures. The Central Council of Tlingit and Haida Indian Tribes of Alaska is working to build on that to change the addiction and drug overdose situation.
A study in the National Library of Medicine reports addiction and drug overdose death rates are higher among Indigenous people than the national average, a continuing multi-year trend. Risk factors include the emotional and psychological trauma of cultural genocide.
Yet the same report states American Indian and Alaska Native people also have a unique protective factor: "their deep-rooted sense of family, tribal affiliation, and spirituality." Together with tribal programs that limit access to addictive substances, "these factors can significantly increase the success rate of substance abuse prevention and treatment."
Tina Woods, Aleut, is senior director of community and behavioral services at the central council.
"I think drug misuse of all types — whether it be opioids, whether it be methamphetamine, whether it be cannabis and alcohol — drugs of all types are a huge issue. But the area that I really like to bring to light is also remembering that those are symptoms of something much deeper. And that is really paying attention to the fact that we have a history that makes us very disproportionate when it comes to talking about these drugs," Woods said.
She said when such statistics come up, "I always want to educate (people) about how that disproportionate number comes from a place that caused our people a lot of pain." Woods starts that discussion with colonialism and loss of language.
She said the council created a self-paced, self-guided cultural program on pre-addiction and addiction, and it's being expanded to include topics such as grief and loss, historical and intergenerational trauma, anxiety and depression, and suicide prevention.
To push back against the opioid epidemic, the central council is also training first responders on drug interception. At the end of a three-day course, participants will know the latest in trends related to legalization of marijuana, vaping, and cannabis edibles; how to detect drug misuse; how to meet trauma-related needs of young people; and how to de-escalate crises.
Jason Wilson, Tlingit, is the public safety director for the Central Council. He heads a team that organized the workshops.
"We're (doing the training) in the hopes that we're giving a good presentation on what kind of opioids are out there, what are they doing to our people, and then how do we deal with them and combat them," Wilson said.
"Ambulance drivers, nurses, village public safety officers, police departments, these are all people that are on the front line in this battle against drugs. But they're also exposed to the dangers of drugs. And so looking at the use of Narcan (a medication that rapidly reverses opioid overdose) is really important and the education on Narcan to these first responders is really important," Wilson said.
He said Alaska has the same challenges in fighting opioids as in other states, with some additional hurdles. A third of the rural villages in Alaska have no law enforcement. Others have Village Public Safety Officers (VPSO) — first responders for fires, medical emergencies, crime prevention, law enforcement, and search and rescue — but often, Wilson said, with no nearby backup such as state troopers.
"You look at some of the tribes outside of Anchorage, and on the map they might look pretty close, but on a small plane, that's another hour and a half to get to the main hub zone. We face the challenges of getting first responders to our communities.
"In some of our Native communities, we have no first responders," Wilson said. "Can you imagine not having somebody that knows and understands EMT, health experts, law enforcement? There are many right now, unfortunately, communities in the state of Alaska that face that challenge," he said.
Village Public Safety Officers see the effects of addiction and substance misuse, said officer Matthew Mendonso, of Thorne Bay, a community of 477 in southeast Alaska. "It's been kind of heartbreaking to see the extra drugs that are coming into our community. The addictions. And what hurts me the most is seeing the kids suffer from it."
They also see the shortage of resources. Michael Betts is VPSO for Hydaburg, a predominantly Haida village of 378 in southeast Alaska.
"I'd love for it (the opioid epidemic) to go away. I don't know that that's possible, but I'd like to get some more help for people that are addicted, that would like to get help and get off of it," Betts said.
Fred Katelnikov, Alutiiq, is owner and founder of First Responder Personal Protection, based out of Kodiak. He teaches de-escalation skills, which he said involve a holistic approach.
"There's no magic de-escalation pixie dust you can just use in a situation that works. So it's like teaching someone how to play basketball or how to fish or how to hunt or anything like that. It requires showing and demonstrating by example and then practice and repetition," Katelnikov said.
Richard Chalyee Éesh Peterson, Tlingit and Haida, is president of the central council. At a banquet at the conference, he thanked first responders saying they face great risks and see things many of us don't want to see. He said their work in rural communities is especially important.
"We sit here in Alaska's largest city, and you would think this is where the crisis is probably at its worst. But I challenge you that I don't think it is. I think it's in our villages where every life is so critically important to the survival of our villages. When we lose one person there, it has ripple effects that last forever. You know, we were here last week for the first part of this conference, and while we were here — I'm from Prince of Wales Island from the village of Kasaan — one of our youth died of a fentanyl overdose."
Answers may elude individuals, but communities, the Native community can find the solutions, Peterson said. "I'm really proud of the work that we can do to be that systemic change, to turn the tide so that we can have the pride and the love in our communities for each other that I grew up with, that I know is still there, but it's kind of hidden by this opioid crisis."
One of the refrains of the training is that good people can make mistakes, a message Peterson emphasized by speaking from personal experience.
"I can tell you in April, I have 20 years clean from methamphetamine. Twenty years. It wouldn't have been possible if it wasn't for our culture, for our community that decided to hold me up instead of putting me down when I faced addiction. And that's what we have to do, is in this, in spite of all of it, we have to hold each other up. We hold each other accountable, but we hold each other up."
"This problem isn't going to be solved by treating these people like zombies. 'Cause these people are us. It's been me. It can be you. We have to answer with love and empathy and from coming from a place of our culture where our cultural values teach us to hold each other up. So again, thank you for being here."
Our stories are worth telling. Our stories are worth sharing. Our stories are worth your support. Contribute $5 or $10 contribution today to help Indian Country Today carry out its critical mission.